Prioritizing early access to Klu for innovative companies building AI-powered apps and services.
Request Demo
Next-gen AI
App Platform
AI-powered Prompts, Chats, and Workflows for your business.
All-in-one LLM App Platform to engineer and optimize generative actions.
Build with best-in-class AI providers, including...
AI21, Cohere, Replicate, NLP Cloud, GooseAI and custom deployments.
Ship generative features in days instead of quarters.
Design, deploy, and optimize Generative AI features and apps with Klu. Prototype in minutes and iterate over time with Klu Studio.
Create generative Actions with on-demand context from your existing systems and data. Klu easily connects to your CRM, Database, Knowledge Base, Ticketing systems, and more.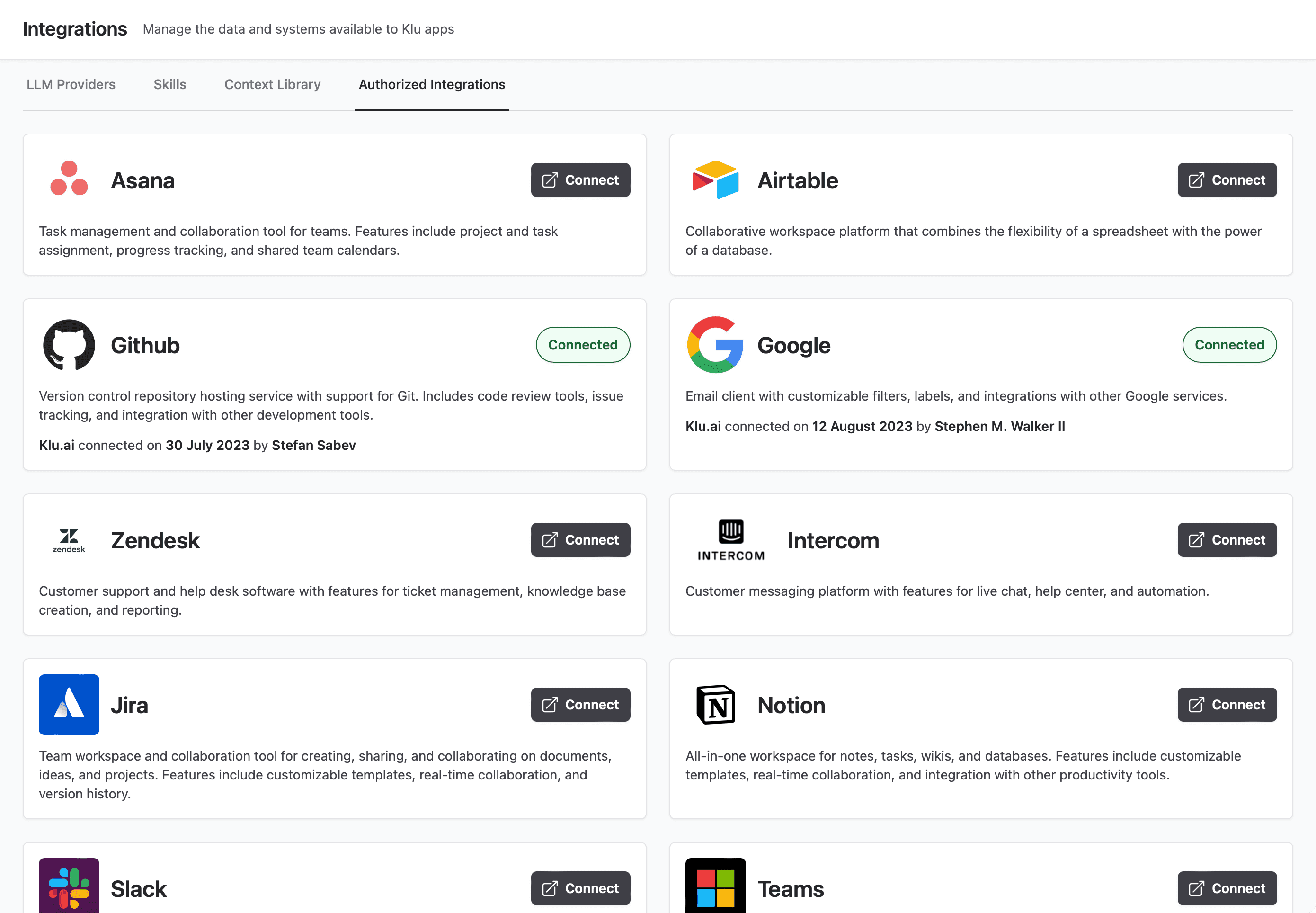 Prompts

Dynamic, generative prompts

Chats

GenAI chat with context, memory, sessions

Workflows

Connect multiple Actions together

Skills

Connect to and use external services

Context

Retrieval-augmented generations

Prompt Engineering

Interactive design environment

Database

Connect SQL, Snowflake, Elasticache, Redis

Integrations

CRM, Knowledge Base, and Ticketing

No-code Publish

1-click deploy
Advanced Data Engine for scaling Generative AI.
Build and scale on any major LLM provider, comparing models in real-world deployments. Ship advanced use cases with multi-tenant meta filtering.
Observe and improve your features with state-of-art optimization techniques.
Lower costs and improve performance through fine-tuning Davinci-002, GPT-3.5 Turbo, GPT-4, and others with your best data. All data is yours, and easily portable to other systems.
Developer-focused tooling for Python, TypeScript, and React UI accelerates development.
LLM Providers

Avoid lock-in, choose any provider

Observe

Usage, cost, and performance insights

Vector RAG

Add context documents via APIs or UI

Vector Filtering

With Context Metadata

Feedback

Real-world user behavior and feedback

Data Management

Advanced filters, import/export

A/B Experimentation

Gather real-world learnings

Fine-tuning

Fine-tune GPT-4 and more with your data

SDK

Build with Klu Python, TypeScript, and React SDKs
Ready for your unique use cases.
Use Klu to create generative or analytical actions, prototype new ML policies, build conversational chat and coaching experiences, or better understand customer feedback.
Focus on your unique use cases, and let Klu handle the rest. Klu innovates with you.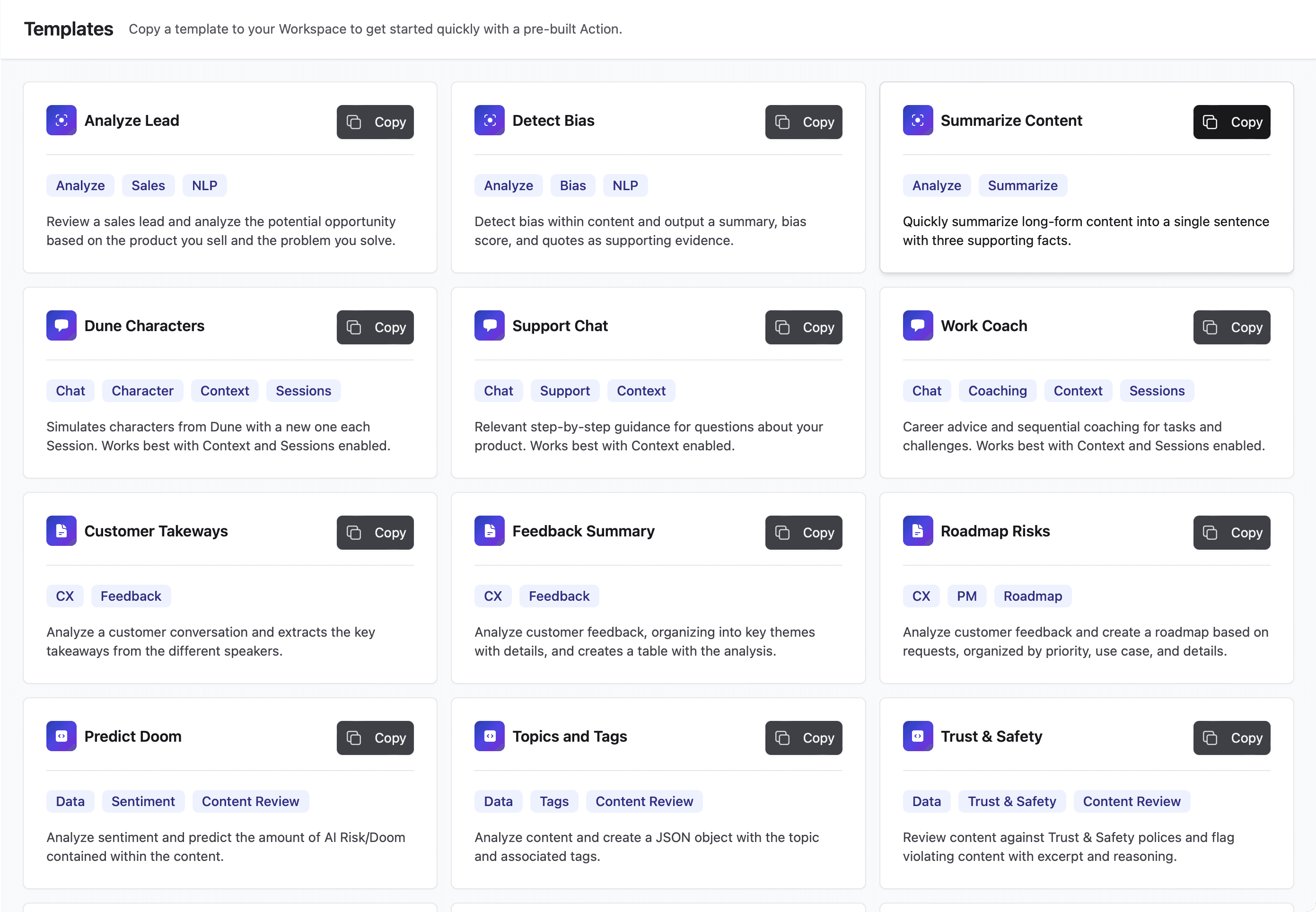 Copilot

Give your users superpowers with an AI-powered, expert Copilot with Context.

Slash command

Generate dynamic, content on demand, with document reference.

Help and support

Create chat experiences with your brand voice and domain expertise.

Coaching

Create on-demand, relevant coaching for your team.

Summarization

Summarize large documents and write in your organization's style.

Lead qualification

Quickly qualify leads with your criteria and spend more time selling.

Content creation

Create content with dynamic prompts, and relevant context.

Customer experience

Analyze user feedback and sentiment, and understand needs.

Data transformation

Extract, clean, and transform data in seconds.
Features that scale with your organization.
Start for free, build generative actions, and upgrade as you grow.
All plans include FREE generations with GPT-3.5-turbo and GPT-4.
By 2030, every product will be powered by AI, and personalized to every user. Let's get started today.
Klu transforms software and organizations to be AI-first, enabling deep software personalization at scale. The future is not about building AI systems to replace humans, but about building AI systems that help people finish boring work faster, spot blindspots, and uncover new opportunities. Klu enables every software product to know its user, and help those users accomplish tasks faster, better, and more efficiently.
Founding Team
Stephen M. Walker II

Co-Founder / CEO

Stefan Sabev

Co-Founder / CTO
10 Clicks
From Zero to Production
Ship your first app in under 10 clicks. No code required.
10x Faster
Teams ship 10x Faster with Klu
Move faster than the competition, learn from customers, and create a competitive data moat around your business.
40% More Productive
Employee & User Productivity Boost
Unlock 40% more productivity, freeing employees and users to do their most impactful work.
Get notified when we unlock access.
Public access to Klu is coming Fall 2023. Be the first to get access.